'The Revolution is not televised' – #Qatar2022 Group B: Iran, England, Wales, USA
Written by ACI in 19 November 22
As football fever is about to grip the world for the next few weeks many Iranians inside and outside the country are choosing to not support the team from the Islamic Republic. Stars of Iranian soccer like Ali Daei, and Ali Karimi have turned down FIFA's invitation to attend the games in support of the protestors.
10 year old Kian Pirfalak, pictured above, is one of the latest victims of the shoot-to-kill policy of the Islamic Republic's response to demands for equality and freedom by peaceful protestors. Other than Kian, forty six other children have been identified as killed since September 16, 2022, when a young 22-year-old Iranian Kurdish woman, Mahsa [Jina] Amini died in custody as a result of blows to her head when she was arrested and detained for not fully observing the mandatory hejab laws in Iran.
Iranians have written many letters to FIFA asking them to ban the Iran soccer team. FIFA also received official demand to suspend Team Melli prepared by a Spanish law firm sponsored by a group of Iranian sportsmen and women.
As the games kick off on Sunday, November 20, we ask the free world press to be the voice of those who are being killed on the streets in Iran demanding 'an ordinary life', where religious and gender discrimination and persecution will no longer hinder the lives of half of Iran's young vibrant population in law and practice.
Iranian journalists are in prison, foreign correspondents are not allowed in the country, the internet is heavily censored and little independent information is emerging from the country. Yet the news that makes its way outside is overwhelming of deaths, arbitrary arrests, disappeared children arrested from schools, torture, forced confessions and brutal military crackdown. The ruling elite has declared war against the people.
The Islamic Republic's Football Association is state-sponsored and managed – violation of FIFA statute 19, women have not been allowed to enter stadiums since 1981 – violation of FIFA statute 4. Many women who have attempted to enter stadiums have been arrested. One young woman, Sahar Khodayari, facing a six months prison term set herself alight in protest and lost her life. With FIFA's intervention, women were invited to attend a world cup qualifier match in Mashhad. Tickets in hand they were met with batons and pepper spray and prohibited to enter the stadium. The continued killings and human rights violations violate FIFA statute 3.
So, where FIFA has failed, YOU be the voice of the Iranian people.
While celebrating the beautiful game remind your public to be aware of what is happening.
Some ways to show solidarity include calling out Mahsa Amini's name at minute 22 of all matches in respect of her age and birth date. @neginsh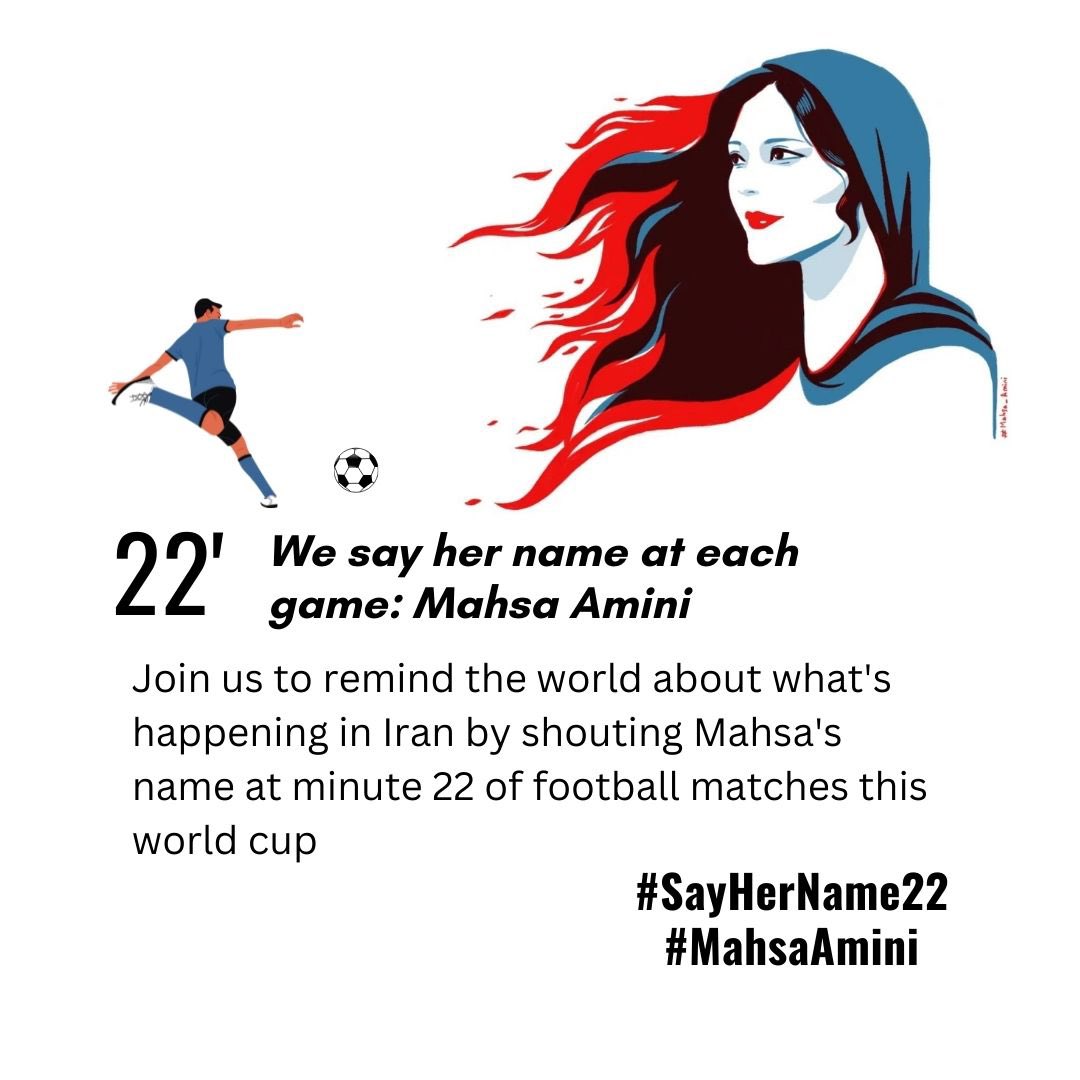 @OpenStadiums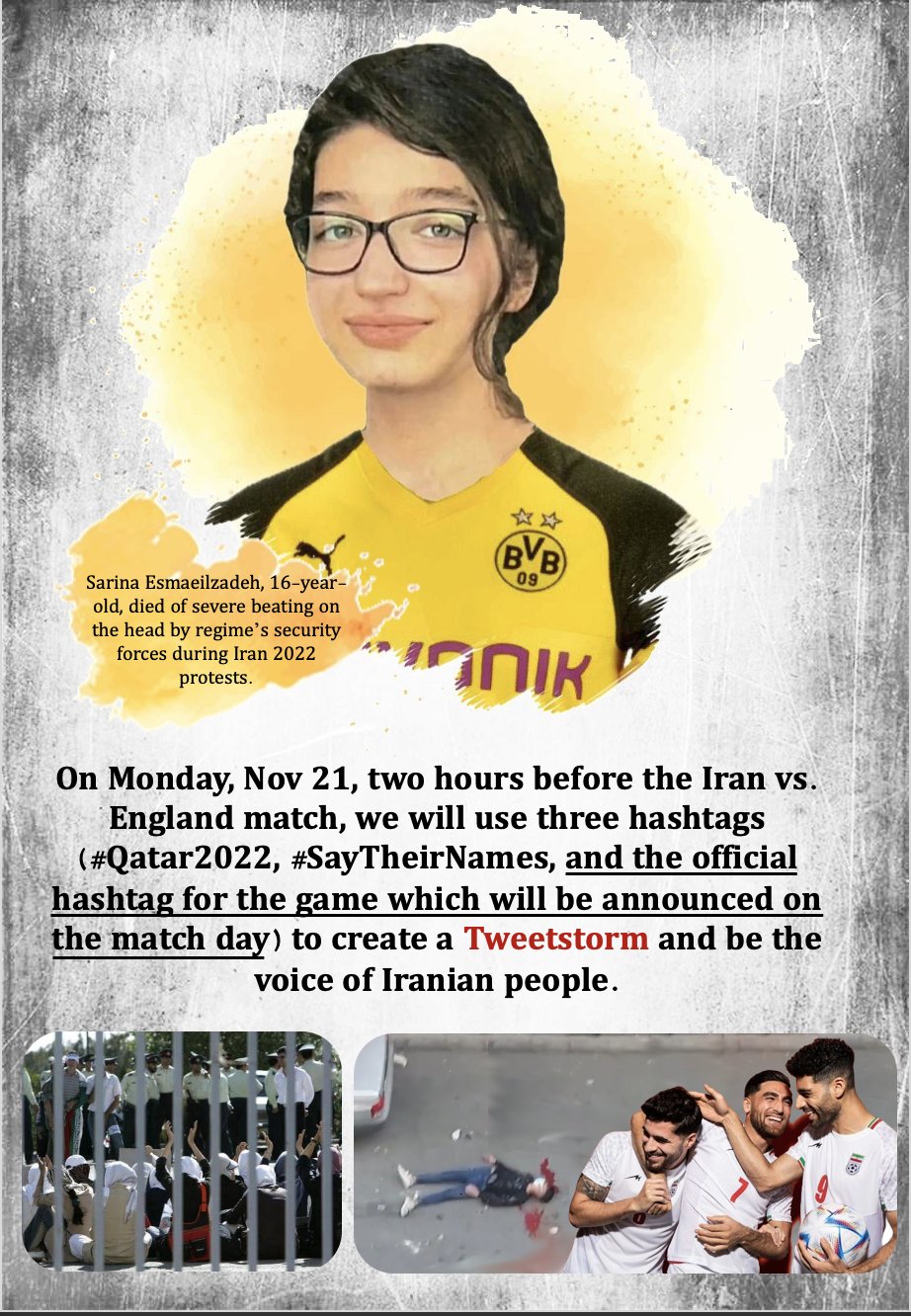 Another (@omid9) is a call to Team Melli – if and when – they score a goal to celebrate the goal by miming scrunching hair and snipping it as other Iranian beach football players did at their international matches recently.
Be our Voice: Woman Life Freedom
——————————————–
FIFA statue – 3: Human rights
FIFA is committed to respecting all internationally recognised human rights
and shall strive to promote the protection of these rights.
FIFA Statute – 4: Non-discrimination, equality and neutrality
1.
Discrimination of any kind against a country, private person or group of
people on account of race, skin colour, ethnic, national or social origin, gender,
disability, language, religion, political opinion or any other opinion, wealth,
birth or any other status, sexual orientation or any other reason is strictly
prohibited and punishable by suspension or expulsion.
2.
FIFA remains neutral in matters of politics and religion. Exceptions may be
made with regard to matters affected by FIFA's statutory objectives.
FIFA Statue – 19: Independence of member associations and their bodies
1.
Each member association shall manage its affairs independently and without
undue influence from third parties.
2.
A member association's bodies shall be either elected or appointed in that
association. A member association's statutes shall provide for a democratic
procedure that guarantees the complete independence of the election or
appointment.
3.
Any member association's bodies that have not been elected or appointed in
compliance with the provisions of par. 2, even on an interim basis, shall not be
recognised by FIFA.
4.
Decisions passed by bodies that have not been elected or appointed in
compliance with par. 2 shall not be recognised by FIFA.